Android Application Development | Android Application Development Services | Outsource Android Application Development
Convert your ideas into Android apps at low rates. Develop Android game, web, software, social networking, healthcare, banking, wireless, shopping and office applications by expert iPad app developers.
Android Application Development Services
Android is a Linux based open source operating system having JAVA library. Android uses Dalvik which is based on Apache Harmony Java implementation and also support 2D and 3D graphic animation using open GL for data storage. Android is bundled with Android SDK and consists of APIs, sample code, handset emulator, debugging tools, etc.
Our Android Developers are capable of developing complex Android applications and lots of dynamic and unique android applications for the clients.
Because of its unique features it is gaining impetus in the market. Better download features and faster upload speed are some of the features that could be obtained with Android development process.
Choosing VK Web Engineering will make sure that you get the best quality within the expected time. We have experienced developers who use latest development technologies, Java and Android framework for development of custom applications.
Our High-End Services related to Android include:
Android Application Development
Android Software Development
Android Games Development
Android Web Development
Android Social Networking Apps Development
We provide you with applications in a cost-effective manner. Our android developers understand the customer's requirement and customize the applications accordingly.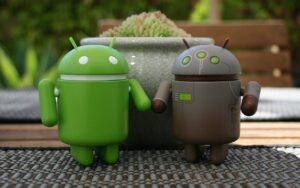 Features of our Android Development Services:
Android is a unique platform that allows Android developers to build unique applications for Android platform devices.
Android mobile phone OS is based on Linux kernel and its development platform is multitasking, which means any application can run on the Android Smartphone simultaneously without affecting the performance.
Android build device are fully customizable as the user requirement.
Android Mobile Application Development platform provide large variety of libraries and useful tools that can be used to build creative mobile apps.
Android platform pre-built of tools dramatically increases the productivity of android application developers and help them to build or design function rich android application faster.
We Offer Customized/Tailor-Made Solutions like:
Android Business Apps Development
Android Mobile Game Development
Android Communication Application Development
Android Game Development
Android Smartphone Enterprise Application Development
WiFi and GPS depended Application Development
Contact us today to get Android Development Services at affordable rates.