Application Services | Application Development Services | IOS Application Development | Android Application Development
VK Web Engineering Application Services and Application Development Personalized to Meet your Needs, Quality Guaranteed. Provide a wide variety of web and database applications for your firm We provide custom software development services to meet the unique needs of an organization.
VK Web Engineering offers a wide range of application services, including application development for both iOS and Android platforms. Our team of experienced developers uses the latest technologies and development frameworks to create customized solutions that meet your specific needs and requirements.
Our application development services include everything from developing new applications from scratch to maintaining and upgrading existing ones. We provide end-to-end services that cover the entire application lifecycle, from conception to deployment and beyond. Our services are designed to help you reduce risks, improve productivity, and enhance customer satisfaction.
We specialize in developing mobile applications for both iOS and Android platforms. Our team has extensive experience in developing applications for different industries, including healthcare, e-commerce, education, and more. We use a collaborative approach that involves working closely with our clients to understand their needs and develop solutions that align with their business goals.
As a leading application services company, we have a proven track record of delivering high-quality solutions that meet the most demanding business requirements. If you are looking for reliable and cost-effective application development services, VK Web Engineering can help. Contact us today to learn more about our application services and how we can help you achieve your business objectives.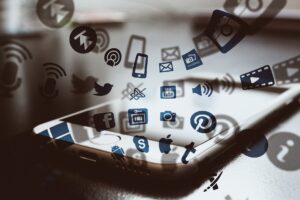 We design, develop, and maintain databases, back-end systems, and front-end web applications. Our comprehensive approach starts with a business analysis that identifies areas where operational efficiency can be improved by leveraging technology so that the company can execute its business plan with greater efficiencies. For example, our team has helped many companies use technology to adopt better processes and automation techniques that allow them to avoid expensive process changes and address inefficiencies head on, or implement next-level productivity tools. to boost efficiency.
Our team of highly skilled professionals is focused on providing the best possible solutions for your business needs, utilizing advanced technologies and techniques to meet your expectations We develop data-driven web applications with a sophisticated, easy-to-use interface. With our custom application development services, we work closely with our clients to conceptualize and design software that meets your specific needs.
Mobile Apps Development Services
Android Development Services
iOS Development Services
ionic Development Services
ReactNative Development Services
Flutter Development Services
Hire IOS Developer
Hire Android Developer
Hire Xamarin Developer
Hire Kotlin Developer
Hire React Native Developer
Hire Ionic Developer
Hire Flutter Developer
We develop Android and iOS apps, create websites and offer a wide range of services. We use the latest technologies for mobile app development and offer the latest trends for web development, like HTML5 and CSS3., to deliver amazing designs. and responsive user experiences. Our team of experts can build apps that integrate seamlessly with your business systems and provide the best possible user experience to meet your needs.
Our years of experience in application development have given us the capability to understand your requirements accurately. With our expertise in application development, you can be sure to get your applications developed seamlessly. Contact us today!
Looking to hire Application Development Services, Mobile application Development Services, Android App Developer, IoS App Developer to join your Open Source team? Request free quote and interview on info@vkwebengineering.com