Enterprise Application Integration Services Company | Enterprise Application Integration Development Services | Enterprise Application Integration Management
VK Web Engineering is a reputed IT firm offering various cost-effective services that benefits clients to the most. Enterprise Application Integration (EAI) is a term used to describe the plans, methods and tools meant for the integration, modernization and consolidation of computer applications of an enterprise so as to increase their utility throughout the enterprise. Enterprise application integration (EAI) is a process of linking multiple applications within a single organization so as to simplify and automate business process to a better level. This module of unrestricted data sharing within an organization needs great technical precision and understanding. Nowadays it has become necessary for enterprise to make widespread use of computer systems and applications so as to establish and maintain competitive gain.
At VK Web Engineering, we offer comprehensive enterprise application integration services to help businesses streamline their operations and improve productivity. Our team of experienced developers specializes in developing custom enterprise solutions that are tailored to meet the unique needs of our clients. We use the latest technologies and development practices to ensure that our solutions are of the highest quality.
– Analysis and assessment of current IT infrastructure
– Enterprise application integration strategy development
– Custom enterprise application integration development
– Enterprise application integration management
– API development and integration
– Data migration and integration
Professional Consulting Services from Expert Consultants for – Enhanced Enterprise Efficiency, Better Business Performance and Augmented Growth.
Why Enterprise Application Integration?
Mostly enterprise wants to continue with the use of databases and legacy applications while adding or migrating to applications that exploit the Internet, extranet and other technologies and for that they use existing ones. EAI involve developing new way of business and its applications after seeing how existing applications fit the new one and then creating ways to efficiently reuse what already exists while adding new data. Our EAI services include assessment and planning, product evaluation and selection, integration services and process review and optimization.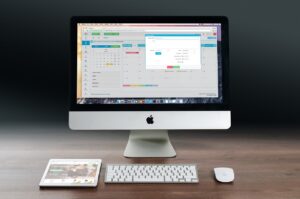 Our Enterprise Application Integration Solutions Help You in Following Ways:
Higher performance
Increased flexibility
Reduced business cycle times
Accelerated business processes
Maximizes benefits from investments in existing systems
Enables business change through flexible underlying information technology systems
Provides global enterprise visibility of information and business processes
Extends supply chain visibility
Reduces systems/IT total cost of ownership
Enterprise Application Integration includes Methodologies like:
Object-oriented programming
Modification of enterprise resource planning (ERP) to fit new objectives
Middleware, message queuing, and other approaches
Distributed, cross-platform program communication using message brokers with Common Object Request Broker Architecture and COM+
Enterprise-wide content and data distribution using common databases and data standards implemented with the Extensible Markup Language (XML)
Our consultants merge domain and functional expertise with technical capabilities to design business processes, helping our customers to meet their IT needs to fulfil their business goals.
We offer cost-effective solutions that are tailored to meet the specific needs of our clients. If you are looking to streamline your operations and improve productivity through enterprise application integration, VK Web Engineering can help. We use a collaborative approach that involves working closely with our clients to ensure that our solutions meet their specific needs. Contact us today to learn more about our enterprise application integration services and how we can help your business streamline its operations and improve productivity.
Contact us now to get Enterprise Application Integration Services at affordable rates. Request Free Quote on info@vkwebengineering.com