Application Development & Management Services | Outsource Application Development & Management Services | Application Development & Management Services Company
VK Web Engineering is a leading Application Development & Management Services Software development company with a successful track record of delivering quality Application Development & Management Services solutions and services. We are specialized in a wide range of Application Development & Management Services and digital marketing services. Our team of designers, developers, and marketers have been working together for more than 10 years. VK Web Engineering is a leading full-service software development company with more than 25 years of experience in developing innovative solutions for clients in the US and UAE marketplaces, with a focus on helping companies grow their business through smart digital marketing strategies that suit their individual needs.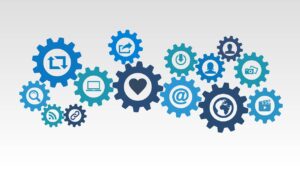 Application Development
Application Management
Application Services Assessment & Consulting
Application monitoring and performance management
Application troubleshooting
Application enhancements
Application optimization
Change management and training services
Custom enterprise applications (written on Java, PHP, .NET, Python, C++, etc.).
Customized third-party applications (including SharePoint, Salesforce, Dynamics 365, Magento).
CRM, Supply chain management, Asset management, Ecommerce solutions, B2B and B2C portals, Enterprise mobile apps, User activity monitoring software.
App performance monitoring software, Security software, Data analytics, big data apps, IoT apps, AR, VR apps
Our R&D team works in the latest technologies like AI, agile methodology and automation tools to create and deliver the best for you. We also offer round-the-clock support to ensure that you never encounter any obstacles in your projects.
We're experts when it comes to developing applications for different languages and platforms like iOS, Android, Windows, Linux, etc. We have also had experience in building intranet portals and extranets.
All our solutions are easy to use and maintain with our expertise in application development and maintenance services. You can trust us to deliver high-quality software at affordable rates with just one call!
Application development & maintenance, intranet & extranet portal development, RIA development, database development, eCommerce development and application migration services at affordable rates.
Technologies We Work With at VK Web Engineering:
Back end programming languages: Microsoft .NET, Java, Python, Node.js, PHP, Golang.
Front end programming Languages; HTML5, CSS, JavaScript
JAVASCRIPT FRAMEWORKS : Angular JS, React JS, MeteorJS, Vue.js, Next.js, Ember.js
Mobile Technologies: iOS, Android, Xamarin, Apache Cordova, Progressive Web Apps, React Native, Flutter, Ionic