iPhone Application Development | iPhone Application Development Services| iPhone Application Development Company
iPhone Application Development services by VK Web Engineering is a leading iPhone application development company that offers high-quality iPhone application development services. Our team of experienced iPhone developers specializes in developing custom iPhone applications that are user-friendly, responsive, and scalable. We use the latest iOS technologies and best practices to create iPhone applications that meet the highest quality standards.
Our iPhone application development services include iPhone game development, iPhone enterprise application development, iPhone social networking application development, iPhone e-commerce application development, iPhone educational application development, and more.
We also offer custom iPhone application development services that are tailored to meet the unique needs of your business. We understand that each business has its own specific needs, and we work closely with our clients to develop custom iPhone applications that meet their requirements. We follow a transparent development process and keep our clients updated throughout the development cycle. Our team of iPhone developers is proficient in Objective-C, Swift, Xcode, and other iOS development tools.
We offer flexible engagement models to suit your requirements, including full-time, part-time, and hourly hiring. Contact us today to learn more about our iPhone application development services and how we can help your business reach its full potential.
With the launch of iPhone there is huge rise in application development in the market as it is the most used phone in the smartphone category. It is very attractive, user-friendly, has rich features and much more to offer to its users. Since the inception of iPhone we are dealing with iPhone development needs of our customers.
We at VK Web Engineering have vast experience in building iPhone applications that elevates a company to bigger, faster and farther reaching levels and also brings new customers.
Develop iPhone Applications by Expert iPhone Developers from VK Web Engineering
People are leaded towards developing iPhone applications due to few convincing reasons that it gives. Those who have business require it badly to reach to their millions of customers through the phone. The technology era has changed and so is the case with business. Whether small or big, a company needs iPhone development for fulfilling their needs. Developing successful application needs great expertise. Our highly skilled professionals connect your idea and business while making you capable of reaching new heights.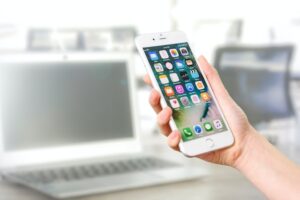 IOS Application Development
iPhone Application Development
Business & Sales Application Development
iPhone Games Development
iPhone Widget Development
Theme, Mock, Icon & Designing
iPhone Web Development
iPhone Social Networking App Development
iPhone m-Commerce Solution
iPhone Software Development
GPS / Navigation / Maps Applications
iPhone Entertainment Application Development
Convert your iDeas into iPhone Apps
It is rather difficult and challenging when it comes to development services of iPhone than other phones. We understand it properly and have gained expertise in catering different needs of customers with our iPhone development services. It requires innovative thinking and in-depth technological knowledge but do not worry you are at the right place.
VK Web Engineering Export offers you feasible solutions towards your idea or business need. Our expert and skilled iPhone developers carry out proven methodology for developing iPhone applications right from scratch by closely interacting with clients.