Business Intelligence (BI) Solutions – BI Solutions For Business Intelligence – BI Solutions Services
Business Intelligence (BI) Solutions By VK Web Engineering provides comprehensive business intelligence (BI) solutions that help businesses make data-driven decisions and gain a competitive edge. Our BI solutions are designed to meet the unique needs of businesses operating in different industries, including healthcare, finance, retail, and more. We use a collaborative approach that involves working closely with our clients to understand their needs and develop solutions that align with their business goals.
Our BI solutions cover everything from data warehousing and data integration to data visualization and reporting. We specialize in developing custom BI solutions that are tailored to meet the specific needs of our clients. Our team uses the latest technologies and development frameworks to create solutions that are scalable, secure, and reliable. We also provide data migration and integration services to help businesses consolidate their data from different sources and improve data quality.
– Data warehousing and integration
– Data modeling and analytics
– Data visualization and reporting
– Performance management and monitoring
– Data migration and integration
As a leading BI solutions provider, we have a proven track record of delivering high-quality solutions that improve decision-making, reduce costs, and enhance business performance.
Businesses need quick and readily accessible information which enables them to make timelier decisions. VK Web Engineering offers business intelligence service which makes you to easily analyse and access your business data and create insightful reports and dashboards for better decisions. You need no IT help for creating and sharing these reports quickly and easily. Explosion of data makes you confused and more involved in managing it rather than focusing on important areas. We understand the issues you face and thus design BI solutions to easily turn huge volumes of data into meaningful information so as to manage your operations to the best.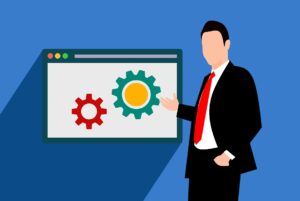 Enhance Operational Efficiency, Improve Business Performance and Accelarate Growth; Hire Professional Business Consultants & Experts
Timely and better decisions are very important for any business. Our comprehensive suite of data analytics and reporting solutions allow company's individuals to assess business performance from a number of angles. Improved and consolidated view of business performance supports better decision making. Experts of hi tech export understands deeply the broad category of applications and technologies that is needed for gathering, storing, analysing and accessing data for your business.
Our BI Solutions contribute in:
Improving Performance
Value Enhancement
Decision Making
Benefits of Our Outsourcing Business Intelligence Development Services:
Allows you to upload any data securely
Visually analyses and builds insightful reports and dashboards
Develops reports collaboratively
Push data from hosted or in-house business applications and databases for reporting and analysis
Wide range of reporting components
Query with SQL
Allows you to embed your reports and dashboards anywhere you want
Highly secured solutions
On time delivery
Affordable pricings
Dedicated, experienced and skilled professionals
We strictly follow stringent quality standards ensuring that your BI solutions trigger all strategic and operational actions that are necessary to improve your business performance.
Contact us today to get intelligent Business Intelligence (BI) solutions at cost effective rates.