Outsource Software Development Services | Software Development Outsourcing | Software Development Outsourcing Company
We Develop Scalable Software Solutions and Services.
Software Development Outsourcing Services at VK Web Engineering provides outsourced software development services to businesses looking to reduce costs and improve their software development capabilities. Our software development outsourcing services are designed to help businesses streamline their software development processes and improve their overall efficiency.
Our software development outsourcing services include:
Custom Software Development: We can develop custom software solutions that are tailored to meet the unique needs of your business. Our team of experienced developers use the latest technologies and tools to ensure that your software solution is efficient, scalable, and secure.
Mobile Application Development: We can develop custom mobile applications that are optimized for different platforms such as iOS and Android. Our mobile application development services include UI/UX design, development, testing, and deployment.
Web Application Development: We can develop custom web applications that are optimized for different platforms such as Windows, Linux, and Mac.
Our web application development services include UI/UX design, development, testing, and deployment at VK Web Engineering, we understand the importance of software development outsourcing in improving business efficiency and productivity.
Our software development outsourcing services are designed to help businesses reduce costs, accelerate time-to-market, and improve their software development capabilities. We offer a wide range of services, including software development outsourcing, application integration, IT infrastructure management, and software maintenance.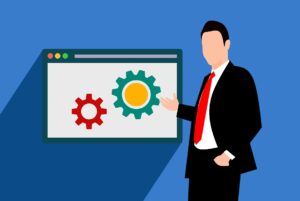 We help you turn your business more profitable, competitive and streamlined with our tailor-made software solutions. We have best software engineers that build performance oriented software and applications that boost revenue and help you automate mission-critical workflows. VK Web Engineering works with the best tools in software industry and platforms like C#, .NET ad Visual studio to develop flexible and quality software that are built for scalability that ensure you don't need new solutions as your business grows. We provide software developers on hire to develop feature-rich software and application solutions for:
Startups
Businesses
Enterprises
Customized Software Development Services
Our software engineers are well versed with the demands and requirements of IT industry. We offer full-cycle custom software development services to a wide array of businesses from startups, small and medium businesses to Enterprises.
We help you at every stage of the Software Development Life cycle from ideation to analysis and from development to deployment.
We not only create custom applications, we also help you customize your current software to achieve optimization and solve your existing business problems. From integration of custom plug-ins to changing the codes, we can help you customize each and every business requirement.
Software Product Development
A successful commercial product must meet diverse user needs and is different from typical software projects. Tap into our domain and technology expertise to develop a custom product that will wow your audience.
UX Design & Prototyping
From Prototypes to custom design that work on all the mobile and web platforms, we utilize our User Experience and User Interface designers to design beautiful UI/UX experience for you and your end-users.
Enterprise Application Integration
VK Web Engineering has proven track record for integrating various software and applications across different programming platforms. We streamline business processes and maintain your enterprise system applications and software at cost-effective prices.
STREAMLINED ACCESS TO DATA, CONTENT, PROCESSES AND APPLICATIONS
Implementing full spectrum of features on web and mobile portals and software that incorporate various technologies, and software coding platforms. We provide an exquisite user experience into content management, automation of processes and information sharing capabilities.
Managing the growing demands for smoother user experience- we work with advanced back-end capabilities and new development models like DevOps (Development and Operations) to enable large businesses and enterprises to launch multi-vendor platforms and online market places into various ecommerce platforms.
For corporate and public service companies, VK Web Engineering offers development of digital engagement solutions that improve end-user experience, increase interaction, automate and save time for both customers and organization. We also develop self-service platforms to introduce service and product enabled digital technologies.
Partner Network
We design and develop software solutions for vendor and third-party partner networks. They're created to extend current functionalities and automate processes, scope of customer and vendor service facilitating interaction, invoicing options and increasing visibility for expenses and transactions.
Knowledge Sharing
Promoting eLearning experiences, video and audio streaming to increase collaboration of sharing and knowledge-centric activities. We deliver full cycle enterprise portal development service to meet your company's knowledge-centered needs for employee training or education.
Entertainment
We work with start-ups and companies in the entertainment industry to go digital for distribution and streaming services, giving them new and diverse audience to capture new and global markets. We help them engage with viewers, service streaming services and sell products to expand and grow digital assets.
Corporate co-working
Collaboration is the need of the hour for both corporate and their clients. It helps in documentations and constant engagement for both employees and vendors, VK Web Engineering develops and delivers full-stack corporate software portals to meet your industry specific requirements for rapid growth and ROI.
Social Networking
Creating advanced social networking portals and apps to fully utilize the untapped potential of Social Media for businesses. Our portals create community's cohesion, CRM systems, Social commerce and promote social networking.
Developing a full range of Portals
We design, develop and deliver a variety of portal that provides a complete solution with a wide variety of issues, scopes and complexities. VK Web Engineering deliver dynamic experience to your customers, partners, employers and employees to share, collaborate and store vital business information for greater usage.
Enterprise Portals
We are experts in crafting customized enterprise portals that meet modern corporate requirements. Our enterprise portals are built for productivity expansion, Intranet and Extranet, engagement and management, to provide information, increase automation and self-service and to provide reliability to serve and retain your customers.
Web Portals
VK Web Engineering creates responsive web portals for businesses that are packed for powerful performance, cost-effective and highly-scalable. Our software engineers are skilled to develop intuitive web portals that guarantee reliable solutions and map and improve your workflows.
We understand the modern requirements of businesses, startups and enterprises for full-cycle software development. We have devised full-proof development cycle from consultation to design and from development to support.
Analysis and Planning
Project Planning
Work Structure Analysis
Budgeting Project
Specification of Requirements
Requirement Documentation
Use Cases
User Stories
Design
High/Low-level Design
User Experience Design
Prototypes
Project Development
Source Coding
Compiled Codes
Code Documentation
Unit Testing
Delivery /Releases
Release Management
Change Management
Documentation & Training
Maintenance and Support
Scheduled Maintenance
Software Roadmap
Corrective/Adaptive/Perfective Maintenance
PLATFORMS WE BUILD SOFTWARE ON
LifeRay, Drupal, SharePoint, SalesForce, Dnn, C#, C++, .NET, ASP.Net, .NET Core, Visual Studio, Alfresco
Advanced Portal Implementations customized for Your Business
At VK Web Engineering, we understand the necessity of customized implementation of your software or application on various platforms. Therefore, we have a separate team which looks after all your implementation requirements and takes away all the pain points from your end, so that you can concentrate on business expansion.
Integration Capabilities
We can connect different Web and Enterprise portals to multiple databases and servers that include cloud, Enterprise Service Bus (ESB) and custom3rd party databases, payment gateways and systems and different intranet and extranet dashboards.
Performance and Scalability
Our dedicated software developers are constantly looking for ways to improve performance of your software. We develop software portals with an architecture keeping an eye on the growth potential that can accommodate rapid as well as transcendental changes with various load scenarios and users.
Business Contingency
Our in house DevOps team loves business continuity and therefore plan ahead for contingency plans in case of an error or fault or even expansions. Our software building approach is the extensively test our software programs, automate processes where needed and then deploy them cost-effectively and seamlessly.
Security
We understand the need for 360 degree security for your application, software and products. We ensure full-proof and fail-safe methods are deployed to secure portals, data access and secure transactions along with data encryption with digital signatures and PCI DSS certification audits to minimize the risk factor and attacks.
Why choose us
We develop highly customized software applications to enhance your user experience. We work beyond traditional software development methods like Agile, Scrum, Waterfall and deploy a combination of all three and DevOps to develop ground breaking software that delight you, your clients, vendors and most importantly help you scale-up your business to new heights. Here are some of the reasons to work with us for your software application development:
Quality and Adaptability
Our solutions are built on Quality and through testing. high degree of adaptability to innovate and increase business value.
Managed Services
Our aim is to discover the best ways to develop world-class software that provide a tangible solutions for real-world complex business problems.
Cost-effective Development
We work towards reducing development costs of all the software projects by automation of all your business processes without compromising on quality or security of the build.
Continuous Updating
VK Web Engineering leverages the features of programming languages like .NET, Visual Studio to continuously customize Software applications for better synergy and user experience.
World-class developers
Our dedicated software developers work with all programming languages and are certified by leading software development bodies like Microsoft, Oracle, MongoDB and many others.
Output Guarantee
We guarantee outputs that have added security features and delivered in specified time to work as desired and produce results to drive business growth.
Custom Delivery Model
We have developed hybrid delivery models that work seamlessly in automation that can be merged with your business processes in-line with your business requirements.
Responsive
Our software solutions are responsive both for adding new features and working on all devices for greater utilization and respond to changing requirements and features.
Technology Stack
We blend a perfect mixture of technological competency, industry requirements and domain expertise with a pinch of software development experience to deliver outstanding software products across the globe.
INDUSTRIES
DOMAINS
TECHNOLOGY
News & Entertainment
Professional Services
Travel & Hospitality
Finance & Banking
Manufacturing
Logistics & GIS
Public Sector
Construction
Healthcare
Oil & Gas
Retail
ISVs
Content & Document Management
Intranets/Extranets
BI & Data Mining
Business Process Automation
Social Networks
Media Content Distribution
Web Portals
Ecommerce
E-learning
Ruby-on-Rails
Frontend
Database
Python
Mobile
Cloud
.NET
PHP
Java
Looking for a partner to develop Custom Software Development, Software Product Development, Full software development outsourcing & Software support and maintenance meets your business requirements? It's simple, we can build one for you. Please share your requirement on info@vkwebengineering.com