Enterprise Resource Planning (ERP) Systems Development Company | ERP System Development | ERP System Design and Development Company
Enterprise Resource Planning (ERP) Systems Services At VK Web Engineering, we offer comprehensive enterprise resource planning (ERP) system development and design services to help businesses streamline their operations and improve productivity. Our team of experienced developers specializes in developing custom ERP solutions that are tailored to meet the unique needs of our clients. We use the latest technologies and development practices to ensure that our solutions are of the highest quality.
– Analysis and assessment of current business processes
– ERP system strategy development
– Custom ERP system development
– ERP system integration with other enterprise systems
– ERP system management and maintenance
– Data migration and integration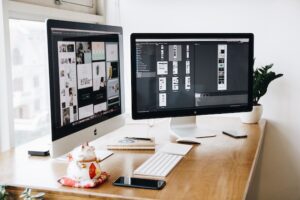 We offer cost-effective solutions that are tailored to meet the specific needs of our clients. If you are looking to streamline your operations and improve productivity through ERP system development and design, VK Web Engineering can help. We use a collaborative approach that involves working closely with our clients to ensure that our solutions meet their specific needs.
Quickly changing economies, shifting industry trends, never-ending needs to reduce costs, pressure of increased performance etc. force organizations to manage their resources more effectively. Whether it is a service-based business or a government entity ERP addresses all the management needs of organizations. VK Web Engineering Export has state of the art facilities and experienced employees to provide you with enterprise resource planning services.
Professional Consulting Services from VK Web Engineering Consultants for – Enhanced Enterprise Efficiency, Better Business Performance and Augmented Growth.
ERP Solutions & Services
Our developers have expertise in implementing, integrating and managing all popular ERP packages including SAP, Maximo, Oracle and our own developed solutions. We focus on assisting you right from selecting the process of implementing till the hosting of the most suitable ERP solution. It integrates with your IT environment so that you can connect smoothly with your partners, employees and customers and work effectively with them. We completely test our solution, preassemble code and provide you with faster and cost-effective ERP.
SAP is the most trusted and standard ERP product. It has evolved from a single product to a host of enterprise solutions helping organizations to manage all their business processes effectively. We offer world-class SAP solutions that are flexible, robust, scalable and beneficial.
We are an ERP Software Development Company that aims to:
Demonstrate expertise, cost-effectiveness and competitiveness
To be the most preferred service provider
Successfully align with SAP's plan on targeted industry and product strategy
Outsource ERP Software Development Services & get:
Complete Analysis:We completely evaluate all your business needs and justify an ERP system for your organization.
Planning:We build the road map for implementing a successful ERP product to meet your targeted objectives of business.
Implementation:We successfully implement ERP system that includes database management, applications server, development tools and business intelligence.
Custom development and upgrades:We provide technology and application up-gradation services.
Managed services:We offer our clients with complete range of managed outsourcing services like data centre, application hosting, DBA monitoring, technical support, technical evolution etc.