Custom Web Development | Outsource Custom Web Development
Custom Web Development | Outsource Custom Web Development | Custom Web Development Services
The debate in the minds of business entrepreneurs whether to build a website as a custom one or just as a regular website model is a common one. While both have their own sets of good and bad aspects, there is not just one option. You need to get the that suits your purpose and business criteria well. However, if you have a plan to let your website outshine other competitors, then custom web development is the right option.

#1 Builds an exceptional brand recognition
In the online space, the key idea of getting an appealing website is making a distinct brand presence globally. So, a custom website is the most fitting option in the light as that can get you personalized design templates, themes, colors, fonts and signature style as per your brand. While with custom development you start from the scratch, there's literally no confinements, no format restriction or no sticking to a particular layout. Thus, building a site just as a representation of your brand's identity, gets you recognition easily in the market.

#2 You get long-term runtime assurance with scalability
One supreme advantage of having a custom website built is scalability. In the long run, when your business will diversify, you will need to add more elements or specific functions for your added offerings. Doing the same for a layout-based website is cumbersome and needs a major overhaul. But, a custom-based site, where everything is tweaked in from the beginning as per your requirements, making some more additions and adjustments is super-fast and easy.

#3 User-experience is always on priority
Creating a website with customization is the most reliable idea for your business if you want to prioritize the user experience on your website. Firstly, you know your clients can access it from any device, a desktop, mobile or tablet or a browser or some portable workstation. So, you need to optimize the site for every device's screen and make them compatible with every browser, if you want to provide ideal customer experience.

#4 Custom websites help you stay secured
In case you want to create a site by keeping tight security, then custom development is your correct option. You can ask your developer about the level of security, authentication tools or plugins you want. Whereas, in case of a flat layout design you can have only the security choice that it supports.
Clearly, if you want to have a site that is perfectly relevant with your business and expect it to scale up in future when you have more visitors or in an event when you have your added offers, then run a custom site.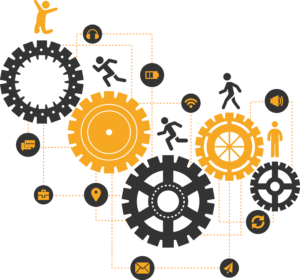 There are two prevalent website construction approaches being utilized on the Internet today. The first of these approaches is custom website development where your development environment allows you to be easily exposed to the programming logic of what you create and you can work within the programming logic to create exactly what you want to create. The second of these approaches shields you to a significant extent from the program logic and you construct your website through a series of tools in a WYSIWYG (What You See Is What You Get) environment where you utilize a series of templates, tools and plug-ins to get the job done without delving into the code itself.
In the earlier days of coding websites, and I am only going back around 10 years ago, custom website development required you to learn in detail a number of programming languages to get the job done and you pretty much had to pay professional developers to build your websites for you. And this could get quite costly. Even today, to build a website of any higher sophistication level, will require you to have significant programming skills.
You will need to know languages such as HTML and PHP at the website presentation layer level, languages like JQuery, and SQL if you want to interact with databases, database modelling and design to design your databases and database tools themselves to build the databases (such as Access, MYSQL, SQL Server, Oracle, Sybase, etc.). And if you want to interface with 3rd party systems such as travel, car rental and booking systems as just one example, then you will need to be learning additional languages like XML. Not to mention the development tools you will need to learn such as Adobe Dreamweaver or Microsoft Visual Studio. This should give you pause if you are just starting out in a business and you are thinking about building a custom website for yourself. It is not easy work.
However, there are opportunities for you to still go the custom website development route these days if the level of sophistication in the site you are desiring is not too extensive and if it falls within the patterns of website templates available for purchase from any number of vendors today. You still can't go too far off the reservation, but you can now reasonably expect to be able to purchase a template website design from a vendor and construct a website of your own without too great a learning curve.
Within these templates, the baseline coding has been done for you. You get the screens already constructed, images already in place, links between pages built, and links to 3rd party payment services like PayPal already built, etc. You would need to still use a website development tool to finish the construction of your site, but you should be able to figure it all out yourself albeit with a number of frustrating How do I do this? moments along the way.
On the other hand, you could take the approach of using a website construction system that shields you from the coding. The most widely known of these systems is WordPress and to be frank, if this is the direction you choose to take, I wouldn't steer you to any other product. WordPress has evolved over time to specifically meet the needs of small business to provide website construction tools to those with limited knowledge of web development.
VK Web Engineering Custom Web Development Services:
Business Web Application Development
Web-Based Product Development
Software as A Service (Saas)
Professional Software Services
Web Application Maintenance
CRM Solutions
CMS Development
Web App Development
Custom Web Development
ERP Solutions
Ecommerce Website Development
Online Recruiting Application
Web-based Survey Application
Accounting/Loans and Receivables
Mobile Phone Account Management System
Utility Management System
Call Center Application
Digital Media Distribution
Social Networks and Communities
Document Management
Data Mining and Custom Report generation
Customer Relationship Management
Integration with SMS Gateway
Through a series of templates (often called Themes) that you can chose from for your base design, coupled with WYSIWYG design tools and feature set plugins, you can build your own website and be in business with it in only a few weeks. Your site will have limitations technically, but the WordPress themes these days are quite visibly appealing and you can make a quality site if your interests lie with just selling some affiliate products, running your own Blog, promoting a cause or providing an online presence for services you wish to provide. This approach will keep your cost of entry very low and it is a good place for most people to start if budgets are limited. Be aware though that as you grow and your sophistication requirements increase, you may have to move across to a custom solution as it is possible that you will outgrow the capabilities of your WordPress site.
So as you think about building your business, understand the differences in the above approaches and what your business requirements are and then proceed accordingly.
Email us: info@vkwebengineering.com  or CLICK HERE to fill up small quick contact form, Ask our experts Web Application and Software Developers about your Web Application Development projects or Software Development Projects. Our Expert will get in touch with you and will assist you within 1 business day.